I attended the 2018 Women's Entrepreneurship Day Summit, a day-long symposium held November 16 at the United Nations in New York City that celebrates women in business around the world and raises funds to provide micro-loans to fund women entrepreneurs in Third World countries. The event was conceived and produced by my good friend entrepreneur, Wendy Diamond. #WEDO2018. www.womenseday.org
I had the chance to meet some FABULOUS women who shared their stories. Here are a few:
HRH Princess Märtha Louise of Norway was the first-born in her family but, at the time, the country's rules of succession still favored sons. Bucking tradition and facing negative feedback initially for becoming a "working royal," HRH started two companies, written books and is an advocate for disabled children through her Princess Märtha Louise Fund. Today, she is widely admired for her advocacy work and entrepreneurial spirit.
Samantha Nerove served as an Army paratrooper in the 18th Airborne Corps and was one of the first women deployed to Desert Storm/Desert Shield. Her later mobilizations included Operation Enduring Freedom in Bosnia, the Global War on Terror and Operation Iraqi Freedom where she was injured and taken to Walter Reed Army Memorial Hospital as a Wounded Warrior. Nerove spoke about standing up to sexual discrimination and violence against women which she experienced. As Founder/CEO of America Matters, Nerove works to advance the causes of civil liberty and freedom. Check out her Stop Female Genital Mutilation campaign #stopfg at this link: www.americamatters.com
Vintner Shari Staglin, CEO of Staglin Family Vineyard was honored with the Philanthropy Award. Staglin has raised and donated more one billion dollars for mental health causes and established the One Mind Foundation whose mission is to fund scientific research and treatment programs to accelerate cures for brain illnesses and mental health causes. Learn more at OneMind
Kathleen King is founder of Tate's Bake Shop which was recently sold to Oreo Giant Mondelez International for $500 million. But it was not always cookies and milk for King. She spoke about starting her Kathleen's Bake Shop in 1980 at age 21. She achieved success and took on partners to grow and scale her business. Along the way, there was a fallout with her partners and lawsuits. She lost the rights to the name "Kathleen's Bake Shop" and ended up $200,000 in debt. Remortgaging her home, King started over and found success a second time. You can read King's story at this Business Insider article. LINK.
Kara Goldin is founder and CEO of Hint, Inc, which manufactures naturally flavored bottle water. Goldin came up with idea after leaving her job as a top executive at AOL. Overweight with low energy and adult acne, Goldin realized one problem was she consumed too much diet soda, drinking eight to ten cans daily. She made a commitment to make healthy changes, ditched the diet sodas and started drinking more water.  But she found plain water boring. After slicing up fresh fruit to lightly flavor her water she came up with the concept for Hint. The rest is Hint-story. Learn more: Hint
As a woman in business, this day inspired me to make a commitment to find ways help women entrepreneurs in the industry shape their message and share their stories to secure the investment capital they need to launch and succeed. If you are with me on this mission and want to support it, let's work together to make it happen. Contact me at melanie@melanieyoung.com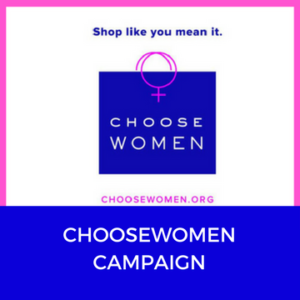 Want to support women in business?  November 28 is international #choosewomen day. Learn more at www.womenseday.org and please shop and dine at women-owned businesses and consider hiring women service providers.
Hear my radio interview with WEDO Founder Wendy Diamond on iHeart. Wendy is the second segment. The first is with dentist, Dr Timothy Chase, SmileNY, who offers handy tips on caring for your teeth and gums.