The main reason diets don't work is people don't stick to them. It's a commitment. Your relationship to food is more than about what you eat. It's emotional. Many of us eat and drink to nurture our spirit as much as to nourish our bodies.
Maybe it's time to change your behavior and not just your diet. That's one of the many messages from Dr. Deena Solomon, who tackles weight loss from a cognitive behavioral perspective- aka "retrain the brain." www.drdeenasolomon.com
Dr. Solomon says, "While others view food as an addiction, and overeating as a disease that must be cured, I see eating as a learned habit pattern." Dr. Solomon went through her own seventy- pound weight loss which she has maintained since 1980. On average, Dr, Solomon's clients have experienced an eighty-four percent success rate with their weight loss.
Recently Dr. Solomon joined me on Fearless Fabulous You! to discuss  her approach and ways you can work on your behavior to facilitate healthy habits outlined in her book, Immaculate Consumption: The Path to Lifelong Weight Management
It can take at least 30 dedicated days to change habit. Here are five tips:
just focus on changing one thing; not many
keep a journal to document your progress and how you feel
identify triggers that may distract you or prevent you from sticking to it and move away from them
create a support system of friends to encourage you, or tag team with a buddy seeking to change a habit
if you stumble, just get back on track quickly and don't self-shame
Listen to my show with Dr Deena Solomon to learn more:
 Building Confidence
Behavioral changes start with building a better foundation of self-worth. How can you function properly if you don't believe in your Self?
In this same show, I chatted with Claire Shipman, co-author of The Confidence Code: The Science and Art of Self-Assurance-What Women Should Know
and The Confidence Code for Girls: Taking Risks, Messing Up, and Becoming Your Amazingly Imperfect, Totally Powerful Self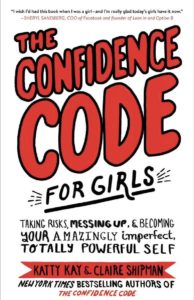 Claire (former correspondent for ABC, NBC and CNN) and co-author Katty Kay (anchor of BBC World News America) have kicked off a campaign called #CaptureConfidence to help women of all ages to express their true confidence Self. Learn more and watch this ABC news segment here.
Or copy and paste:
https://abcnews.go.com/GMA/Family/captureconfidence-girls-develop-critical-confidence-metoo-era/story?id=54106629