An estimated 20 million women and 10 million men in the USA will have an eating disorder at some point in their lives. According to the National Association of Eating Disorders:
Eating disorders are complex and affect all kinds of people. Risk factors for all eating disorders involve a range of biological, psychological, and sociocultural issues. These factors may interact differently in different people, so two people with the same eating disorder can have very diverse perspectives, experiences, and symptoms. Read more about Risk Factors here
So, what are some signs a loved one may have an eating disorder? Here are a few below:
Emotional:
an obsessive focus and preoccupation with diet, weight, body image and size
avoidance of  certain types of food or food categories, or only eating one type of food.
avoidance of eating at all or eating in front of other people.
hiding food or food wrappers, containers.
mood swings or withdrawing from social activities
Physical:
extreme weight loss or gain, or weight fluctuation
dizziness, fainting, weakness,  inability to concentrate
fine hair on body (lanugo)
sleep problems
feeling gold all the time
week and brittle nails, hair thinning or loss
cuts and calluses across the top of finger joints (a result of inducing vomiting)
dental problems
Find the full list of symptoms and by condition at this link
Eating disorders are serious but treatable mental illnesses says Dr. Eve Freidl, Medical Director at the Columbia University Clinic for Anxiety and Related Disorders. Dr. Freidl joined me on Fearless Fabulous You February 28th to discusses eating disorder symptoms and treatment. First step is to be aware of symptoms and contact your primary care physician who may refer you.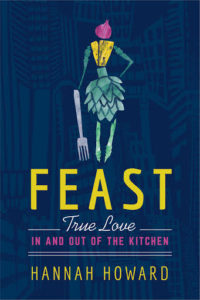 I also spoke with food writer, Hannah Howard, who shared her personal struggle with an eating disorder and recovery in her book, "Feast: True Love in and Out of the Kitchen." Hannah battled, and often hid, her eating disorder while working in the restaurant business. Temptation was everywhere! It's not uncommon and, fortunately for Hannah, she learned to recover and rebuild her self-esteem and confidence. Today, she is thriving as a writer. Learn more at her blog and website www.washedrinds.com
Get Help!
If you have an eating disorder or are concerned a loved one may have an eating disorder, contact this helpline run by the National Eating Disorders Foundation: (800) 931-2237
The NEDA Helpline is available Monday-Thursday from 9AM to 9PM ET, and Friday from 9AM to 5PM ET.
Purchase Hanna Howard's book here: