The invitation was sudden, subtle and enticing. Boarding the bus to New York this past week, we ran into someone we'd recently met at a dinner party.  He quietly came over to us after we were seated and said, "Would you like to come to my house for a mystery meal?"
"Why not!" We answered, intrigued with the idea. Let's face it: David and I have been in a dining rut at home eating various versions of greens, beans, mushrooms and fish every night. We could use a little mystery to spice things up.
He asked us about our food restrictions or allergies. We kept it simple: no read meat or pork. He told us to each bring a knife, an apron and a bottle of wine, red or white. The guests would be cooking the meal with the ingredients he planned to purchase. All would be revealed once everyone arrived at his house. 5pm sharp.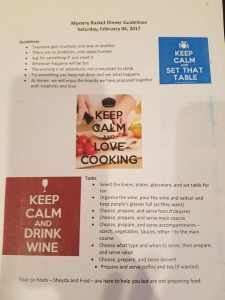 Saturday night we took our our knives, the aprons and wines. There were ten of us. We knew exactly two people in addition to our host. A sheet of guidelines was handed out. We all were in charge of deciding what to make, setting the table and serving the wine with what our host provided.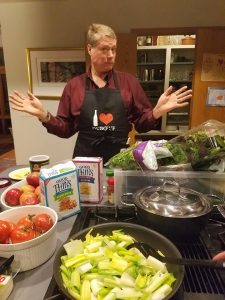 The "big reveal" came in the kitchen. It was a giant container filled with assorted fresh vegetables (Brussels sprouts, tomatoes, cauliflower, aparagus, zucchini, mushrooms, leeks, potatoes, mesclun and arugula), giant U-12 shrimp, sea scallops and smoked salmon, pasta, assorted cheeses (cheddar, burrata, Saga blue), crackers, apples, pears, bread and pie crust, crackers, guacamole, tzatizki, olives and mixed nuts.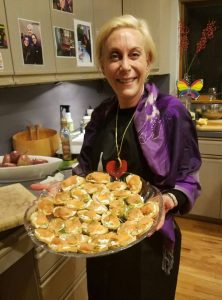 It's interesting how people who don't know each act when put in a group situation to form a cooking team. So many different tastes and talents. Being a take-charge organizer, I sorted everything into sections to create order: greens, cheeses, dips, mains. Then I took the salad greens, burrata, tomatoes, tzatziki, and smoked salmon to create my dishes.  The only child in me preferred to work on my own without people peering over my shoulder.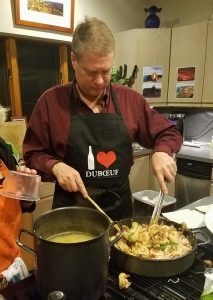 David, on the other hand, manned the kitchen and the main courses. While I worked on creating order, David barked a few orders (albeit nicely). The rest of the guests fell in where they felt naturally comfortable. One worked on making apple pie. Two cleaned and prepped the scallops and shrimp. Two more worked on the warm vegetables, one boiled the pasta. The non cooks set the table.
There was a little back and forth about what to make but amazingly it all fell into place quickly. The meal was spontaneous and quite delicious!  Despite the different backgrounds and tastes of the small group, no one clashed, and we all all seemed to fit into our roles effortlessly. Elected officials should work this efficiently! It was a test of teamwork in a short time and space, and it worked.The meal we created was one of a kind. The next mystery meal will be different: new ingredients, new people, different tastes.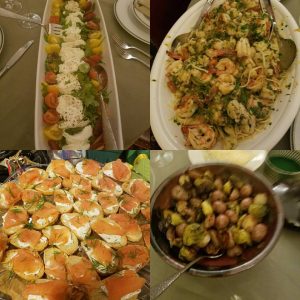 Here's the final menu:
Starters:
Smoked salmon and tzatziki on toast points with fresh dill
Guacamole and crisps
Cheddar with sliced fig cake on Triscuits
Main and Sides:
Shrimp and scallop spaghetti with chopped asparagus, zucchini and tomatoes
Roasted Brussels sprouts and new potatoes
Roasted cauliflower and leeks
Burrata, cherry tomatoes over arugula
Mesclun salad with sliced apples and mustard vinaigrette
Dessert: apple pie + slices pears with Saga blue
The experience reminded me of the beauty of spontaneity. Sometimes letting things fall into place works just fine. Never hesitate to try something new, and stay flexible. Always be open to mixing things up. Appreciate different ideas and tastes. You can create something out of anything with the right ingredients, enthusiasm and care.