I have a game I like to play socially called "Define Your Wine" I ask people to describe themselves as a wine and why. Try it sometime with wine drinking friends.
I tell people I'm a Viogner: soft and lush filled with a vibrant character filled with notes of peach, apricots and violets. A Viogner can be finicky about her climate. She doesn't like  too much cold or direct sun. She's a DIVAlicious blonde grape; please don't compare her to everyday Chardonnays. This article actually refers to Viogner as the "Beyoncé of grapes."
The wine writer Lettie Teague recently joined David and me on our Wednesday afternoon show, "The Connected Table LIVE!" Ours was a lively conversation on wine even if the glasses we each had in our hands were filled with ice water. Here's the link to the show and here's the cover for Lettie's new book of witty wine essays, Wine in Words: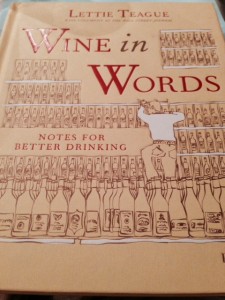 We talked about wine varieties we like- and don't- and how annoying some wine people can be (see Lettie's article in the Wall Street Journal). We talked about how wine marketers create stereotype wines for type cast consumers whether you like it or not (e.g., Bitch for women and Fat Bastard for men). There are countless more and most are geared to women who make the bulk of the purchasing decisions in the household. (Mommy's Time Out, Mad Housewife, Middle Sister, Little Black Dress.).
I am not a fan of stereotyping people or their wines. I dare to be different and adventurous in both how I live and what I drink. I love good quality but I appreciate all the best intentions even when they fall short of expectations. I believe I have an educated palate but I don't believe in being a wine snob. It's that way with people as well. Snobbery has no place in society but education, tolerance and mindfulness do.
There's as many varieties of people as there are varieties of grapes, and wine drinkers are as vast in their preferences as the wines they consume.  Like grapes, people each have a distinctive DNA from where they were born and raised, impacted by the environment, stress, care and cultivation. Some age better than others. Some blend well; others stand out just fine on their own. A bad year can happen and it may take time to recover. A good year should be savored.
You may not like every wine you try and you may not like every person that you meet.  But sometimes you have to accept the person as they are and not what you wish them to be. The best of the bunch may not always be within grasp so learn to adapt and make the best of what you have.
And if you can't be with the wine you love, learn to love the wine you're with.