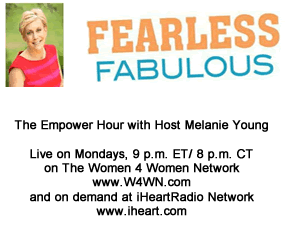 Join me on the air starting September 29, for "Fearless Fabulous You!"- my new radio show. Settle in with a glass or mug of your favorite libation for your personal "Empower Hour" with insights and advice on how to live life on your terms. My guests will include women with inspirational stories of reinvention, achievement and purpose, and I will feature experts in health, nutrition, fitness, books, business, and more.
Fearless Fabulous You! airs live on Mondays, 9 -10 p.m. EST./ 6-7 p.m. PST. on W4WN Radio – The Women 4 Women Radio Network, presented by Talk 4 Media and Talk 4 Radio, the number one ranked internet radio station dedicated to women and empowerment with listeners in all 50 states and 197 countries. http://www.W4WN.com.  Show will be available on demand at   and everywhere the iHeartRadio app is available, under the Shows & Personalities section. http://w4wn.com/radio-shows/fearless-fabulous-you/
My September 29th show will get you moving!  My first guest is Patrice Tanaka who served as inspiration for my own pursuit of finding joy in my life. Patrice is Co-founder, Chief Counselor and Creative Strategist, PadillaCRT, and a self-described serial entrepreneur, co-founding her third PR & marketing agency, PadillaCRT, in September 2013.  In so doing, she and her former partners at CRT/tanaka created with Minneapolis-based Padilla Speer Beardsley the "largest, employee-owned PR agency" and the "15th largest, independent PR agency" in the U.S.  She has been honored by many PR, marketing, business and civic organizations.  Patrice devotes much of her free time to serving on the boards of non-profit organizations dedicated to helping women and children.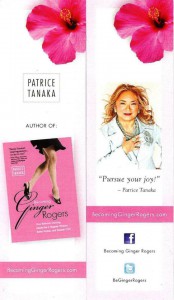 But Patrice's full story is not all about being a PR industry powerhouse.  Some years ago she underwent a personal transformation. Like many women, Patrice has reached the pinnacle of her career but she also felt she needed some mental re-invigoration. At the suggestion of an executive coach, she decided to embark on the pursuit of finding more joy her life.  Following a childhood fondness for dancing, Patrice took up ballroom dancing. In many ways the discipline, diplomacy, rhythm and physical challenge of dancing was not unlike the orchestration of a carefully crafted PR campaign for one of Patrice's clients. She became a competitive ballroom dancer, and one to reckon with!  The physical and spiritual transformation Patrice experienced from immersing herself in the world of ballroom dancing became the basis of her book,  Becoming Ginger Rogers…How Ballroom Dancing Made Me a Happier Woman, a Better Partner and a Smarter CEO, was published in September 2011 by BenBella Books: http://www.becominggingerrogers.com   @sambagal   http://www.padillacrt.com  @PadillaCRT
My second guest will be Dr. Martha Eddy,  CMA, RSMT, Founder, Moving for Life.  Dr. Eddy (Martha to me!)  designs internationally acclaimed exercise and dance programs for specialized health needs. She is a recognized leader and published author in movement science and dance education, fitness and somatic education- mind, body awareness.  She is a Certified Movement Analyst (CMA) and Registered Somatic Movement Therapist (RSMT) practicing Dynamic Embodiment, an approach to movement therapy she created in 1991 and is a affiliated with her work at SUNY-Empire State College in New York,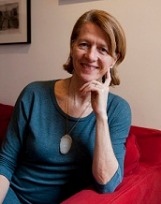 Dr. Eddy developed Moving For Life (MFL) Dance Exercise for Cancer Survivors in 1999 after her mother passed away from cancer. MFL is a scientifically based self-caring fitness workout especially designed for cancer patients, combining a gentle warm-up. Easy yoga, light aerobics, and targeted strengthening. MFL has been operative in New York City's major hospitals, has a stellar medical advisory council, and has published research in its effectiveness. Dr. Eddy's specialized expertise in cancer recovery and MFL's Dance to Recovery DVD have been featured on NPR. CNN, NBC Today, NY1.  Dr. Eddy and Moving for Life are also featured in my book, Getting Things Off My Chest: A Survivor's Guide to Staying Fearless & Fabulous in the Face of Breast Cancer.       http://www.movingforlife.org   @MovingForLife_1
Tune in Monday, September 29, 9-10 p.m. EST/6-7 p.m.PST:
Link: http://w4wn.com/radio-shows/fearless-fabulous-you/.